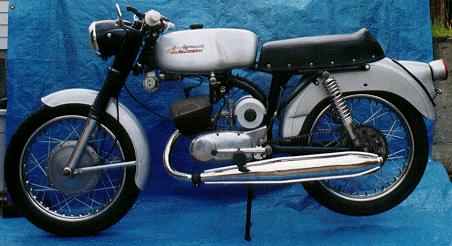 1969 Aermacchi/Harley-Davidson Rapido 125
After restoration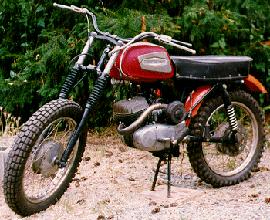 Before restoration
This 1969 Aermacchi/Harley-Davidson MLS-125 Rapido was acquired by the Digital Garage in August, 1993 along with the 1968 Rapido from the previous article. Unlike the `68 model which was fairly correct and complete, this bike was a collection of Rapido parts. The frame, engine, tank, seat and wheels were 1969 parts (engine and frame matching in numbers and titled). The front end, shocks and rear fender were 1970-71 parts.
The Digital Garage chose from the beginning of the project to convert this bike into a street model, similar in appearance to the 1968 Rapido. The gas tank and seat were taken from a 1970 M-65S Leggero that had already been robbed of its engine, among other things, before the Digital Garage purchased it (we have since replaced the Leggero's gas tank and seat and recently purchased a M-65 motor to complete the bike). The triple clamp, forks, fenders and front wheel were taken from a very dead 1961 C-model Sprint. The trickiest part of this conversion was getting the Sprint triple clamp to fit in the smaller, Rapido steering head. The solution came by chucking the triple clamp up in a crank grinder and turning the bearing lands down to accept the smaller Rapido races. The fenders, tank and seat were a natural fit on this bike, with little modification necessary. The rear of this Rapido is finished off by a tail lamp housing from an earlier (1965) M-50/M-65.
The overall affect of this bike is that of a 1968 Rapido street model but more robust. The use of the early Sprint front end had many positive points. Not only did it strengthen the front end with bigger fork tubes and springs, but also allowed for the use of the Sprint front wheel. This wheel is roughly the same size as the original Rapido part (both being 17") but has a larger diameter brake. This 1969 Rapido hybrid is a joy to ride and will provide great company to the 1968.